Welcome to the Mother-Daughter Project
Today's world offers unprecedented opportunities and dangers for adolescent girls, but limited support for the tough work of mothering teens and few models of close, loving mother-daughter relationships. In the Mother-Daughter Project, our intention is to help create communities that simultaneously nurture girls, mothers, and mother-daughter relationships.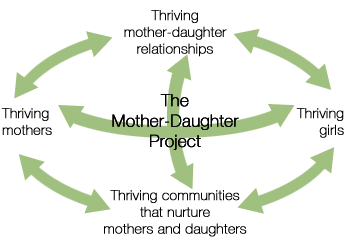 We want to join with other women in exploring how we can continue to nurture our daughters through pre-adolescence, adolescence and into adulthood. We want to find ways to support each other as mothers and support our daughters as they are challenged by the restrictions placed on them by our culture. We want to explore ways that we can welcome our daughters into the powerful community of women.

The core principles of the Mother-Daughter Project
Mothers can continue close and loving relationships with their daughters right through their teen years.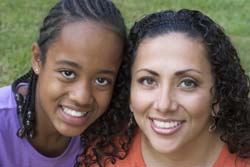 Girls need - and want - a close connection with their mothers - as long as they are respected for their growing maturity and can be cool in front of their peers.
Girls best discover who they are in the context of loving relationships. Maturity means getting better at both autonomy and connection - including with mom.
When girls say they want "space," they don't mean distance. What they want is for us to make space for them in our hearts and in our lives to develop in their own ways. When they go in a new direction, especially one new to us - whether giving up classical violin to play bass for a garage band or dropping basketball to join the math team - our daughters want us right there, supporting and cheering them. Girls want to confide in their mothers, and with their mother's interest and support, it's easier for them to make it through minefield of adolescence.
Girls thrive when mothers thrive.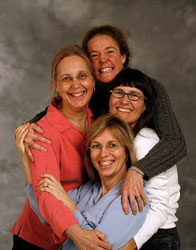 To be able to raise daughters who can flourish, mothers need ongoing support and tangible resources. Our project is not about doing more as mothers - it's about mothers getting what we need to do one of the hardest jobs in the world.
Mothering in today's world is incredibly stressful - even more so for mothering adolescents. When young girls are bombarded daily with internet images of skeletal celebrities partying without underwear, it's an uphill battle to teach our daughters to love their bodies, respect their minds, and have healthy relationships. Individual mothers need the help of other adults who care about girls to be able to raise daughters who can thrive.
Our daughters are watching us to learn what it means to be a woman. Impossible expectations of being a 'perfect mother' are damaging to girls and mothers alike. Girls' self-image is enhanced when they see their mothers thriving. Our project promotes the win-win approach women have been waiting for, in which the needs and hopes and dreams of mothers are as important as the needs and hopes and dreams of their daughters.
Mothers and daughters need the support of other mothers and daughters.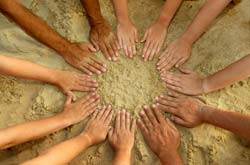 Fostering communities that nurture mothers and daughters is the heart of the Mother-Daughter Project.
As teens grow up through adolescence, they look beyond their immediate families to discover who they are and how the world works. That's why it's much easier for mothers to forge close relationships with teen daughters in conjunction with other mothers and girls who value the same thing. Your thirteen-year-old might not go to the movies with just you, but she'll go with a friend, her friend's mother and you.

Teen girls need other adults who can give them a positive vision of themselves and their future and who can open doors for our daughters that we can't.

It's excruciating to parent in isolation. Other mothers are one of our most important sources of wisdom and support. Now as the Internet changes every day and dangerous trends spring up overnight, other parents of teens are a lifeline.
Some of us already have the support we need from loving, helpful extended families or caring communities of parents, adults and children. For those of us who don't, joining together with small groups of other mothers and daughters is a simple yet revolutionary model that works. Any mother can create a fun, supportive mother-daughter group that meets her needs and fits her life. Go to Start your own mother-daughter group for practical information.
Each mother and daughter has a unique vision of what thriving means to her.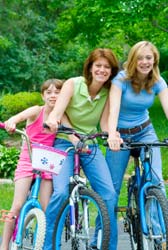 As mothers, we share common hopes and dreams for our daughters and ourselves, and we have hopes and dreams that are unique. Our different cultures, family traditions and experiences inform our different priorities as parents. We don't need to accept one-size-fits-all mothering - we each get to decide our own parenting values. We can support one another in clarifying our values and preferences and in creating our own vision of what it means for our daughters, for us, and for our relationships to thrive.
It's gotta be fun - or we won't come.
Fun for girls and for moms. We promote a mother-daughter movement full of laughter, joy and play. We want us all to do more of what we love - and what we love changes as we change, no matter what our age.
Our sources of inspiration about mothers and daughters
We are inspired by the real-life stories of thousands of girls and mothers with whom we have spoken over the last ten years, by our own experiences as mothers striving to stay close with our adolescent daughters, by our mothers, grandmothers and others who helped make the world a better place for women and girls, by our experiences as psychotherapists and teachers, and by research that has the best interests of girls and women in mind.