The Mother-Daughter Project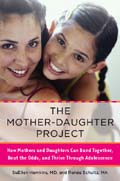 Want to stay connected with your adolescent daughter and help her thrive while getting the support you need to do the tough work of mothering? The Mother-Daughter Project offers a way to make that happen.
Let's face it: parenting daughters in today's world is complicated. While opportunities for girls have never been greater, dangers abound. As mothers, we can feel overwhelmed by all the demands on us—and we worry our daughters will pull away right when they need our guidance most.
In The Mother-Daughter Project, we discovered the simple but revolutionary idea that by joining together in small groups, ordinary mothers and daughters can thrive by facing the challenges of adolescence together. Mothers and daughters love staying close and having fun while taking on the hottest issues girls and women face.
Our model guides mothers in creating their own vision of wellbeing for their daughters and themselves and supports them in putting that vision into action. It's not about doing more—it's about getting the support you need to make your dreams for your daughter and yourself come true.
Inspired by our work, mother-daughter groups have started all over the world.
Want to know more about The Mother-Daughter Project?
Welcome! More about the Mother-Daughter Project.
Listen to a story about our work on NPR's Morning Edition.